Yes, almost not quite at the end of my alphabet journey. This week it is V and next week will be my last - W. Stopping there unless someone can passionately suggest an artist they like for xyz. So V......
V is for Vuillard. Edouard Vuillard (1868-1940) was a French painter who along with others including Bonnard formed a group called Nabis, meaning prophet. The group were passionate about a more simplified, decorative form of painting inspired by earlier painters such as Gauguin. I've become more interested in Vuillard in recent years and you could say I love some of his paintings, having not paid much attention to them as a student. In particular, I enjoy seeing his interior/still life painting 'The Earthenware Pot' (below) which is on display in the National Gallery, London. It is a pleasing beauty with its interesting use of space, pattern and deep colours. You really do have to see it in person to appreciate its richness and depth.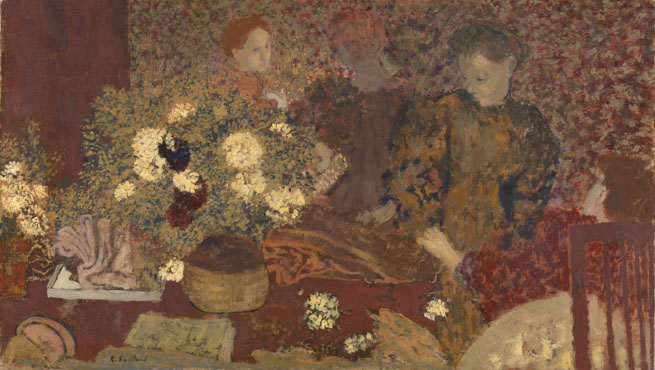 V is also for Vermeer - perhaps like me you think of refined interiors and the portrait 'Girl with a Pearl Earring', and the novel inspired by the painting, the novel by Tracy Chevalier. There's a lot to find out about Vermeer and
here's a site
that seems to have just about everything - you could become happily lost there for a while. There was an exhibition at the National Gallery this past summer 'Vermeer and Music', sadly I did not get to see this one but
here's a link to the exhibition pages
for more to explore.
'Woman Holding a Balance' is perhaps a very fine example of what Vermeer is all about to our modern eye: beautiful light and shade, attention to detail and narrative. I like particularly the painting in the background. The thoughtful, pregnant young woman holds a jeweller's or goldsmith's balance tool. With strong allegorical qualities, this is a painting with many suggestions and no one clear meaning.
***
Many thanks always for visiting here. It's been a chilly overcast start to the week and a busy one too, sending off packages. Hello to new readers and glad you have found my blog.
This week I am busy with new embroidery and paintings. I have various ideas and that's all I can say, as I wait to see what comes to life..... So, I hope to have a lovely selection of work to share for my Friday update. Please note I'll be updating my Etsy shop on Friday a little later than usual at about 6pm (I usually update about 2pm).
I'll be updating my shop each Friday until December 13th - that will be my last update of the year. My shop will close for a while over the Christmas period and I'll let you know exact dates in a few weeks.
Have a very good start to your week and more soon.